I've Capacity, Experience And Contacts To Do The Needful In The Senate – Uduaghan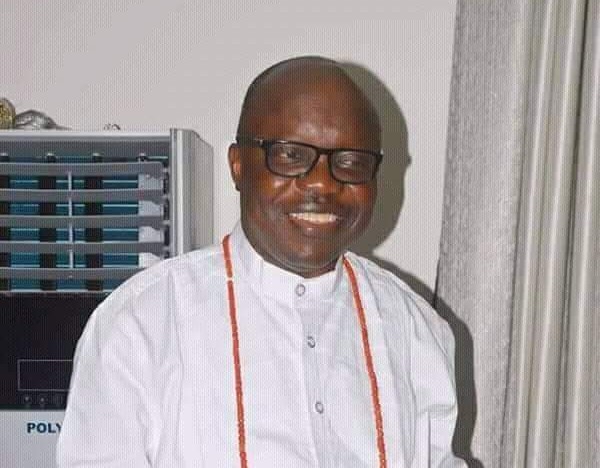 Immediate-past Governor of Delta State, Dr. Emmanuel Eweta Uduaghan, has said that a good Senator who is ready to attract federal projects and achieve his developmental goals for his constituents must be prepare to do more of lobbying.
The former governor who is seeking to represent Delta South Senatorial District at the Senate in 2019, said that holding committee chairmanship post, or any powerful committee position doesn't make one a good Senator.
According to him, only those who know how to network and possibly do lobbying with contacts built over the years that can attract projects to their people can be described as real Senators.
Uduaghan who narrated what he did as a governor during the dark days of Niger Delta militancy, as well as quelling communal crisis in Delta state, said that he personally engaged stakeholders, the key actors, traditional rulers and negotiated for peace in the state and the region.
Speaking during a media parley with selected members of NUJ Warri correspondents, Uduaghan said that as a former governor, who had garnered much experience in governance, he is better positioned to represent the people of Delta South in the senate come 2019 than anyone who is jostling for the seat.
"Legislation is about lobbying and being a legislator you must have the ability to lobby. And lobby is easier when you know who you are talking to. People in the National Assembly, many of them are my former colleagues whether in the Executive Arm or the National Assembly. Many of them are my friends and they are people we have played politics with for a long time.
"It is easier for me, for instance, to take up my phone and call Fashola for one road project somewhere in Isoko than any other person in the race to do that or call Amaechi that I want this port here than any other person to do that.
"It will be easier for me to talk to them one-on -one whether I am a Senator or not. I will get an appointment for us to meet and talk… So what I'm saying in essence is that if you have the capacity it will be easier to get things to your place because it is easier for you to lobby and it is easier to attract development to your area. And I think I have that capacity to lobby and not just to pass whatever bill I'm presenting but to attract development to my constituency.
"One other thing that I think is critical for the National Assembly is that; there are a lot of national issues that are raised in the National Assembly. They are national but they affect various region of this country and if you don't understand the politics and depth of this country you might just stay there and not be able to contribute and see the benefit of that particular issue raised to where you come from.
"Sometime you see people who have being in the National Assembly for four to eight years and you ask what has this man actually done? He was chairman of this, chairman of that but what has he actually done. There are deep things in this country that people don't understand else you are part of it. Of course you know I belong to a Governor's Forum for eight years. There are things that are discussed in the Governors Forum that we will never tell you (press) because we don't allow journalist coming inside but at the end we do a press briefing on things that are of public consumption.
According to the medical doctor turned politician, only those who understand the intricacies and complexity of Nigeria that can better make good legislature and be able to attract development to their area.
Uduaghan, whose administration left an indelible mark in many areas in the state, and may likely square up against the incumbent senator representing Delta South, Senator James Manager who has been in the upper chambers for 15 years running as well as a Delta Assembly lawmaker, Mr. Michael Diden, aka Ejele in the PDP primaries, said that he has gotten a broaden knowledge of the happenings in the country to aid his legislative voyage come 2019 than any other contestant in the area.
"My experience as a Governor for eight years has broadened my knowledge of this country. I have knowledge of the intricacies of this country and this country is very complex. I refused to talk about what happened yesterday (snatching of mace in upper chambers) and I think it is deeper than what people are seeing….
"So we need to get somebody there who understands the issues so that when the issues are raised you will not just look at it from the surface but also ensure that your area is not short change. So those are the things I thinks qualify me to go into the senate race".
Uduaghan, who met journalists in Warri first time since he left office in 2015 on Thursday, said that his aspiration to represent the people of Delta South senatorial district is not ethnic based but anchored on his capacity.
Insisting that following the political equation of the three ethnic groups in the district, it is the turn of Itsekiri nation to take a shot at the senate seat, Uduaghan said, "It is the turn of the Itsekiri nation to produce the next senator representing the district come 2019."
"I have decided to run but I have not declared yet. The reason I have decided to run for senate is because I have the capacity, knowledge, experience and contacts to do the needful in the senate.
"This is not anchored on the fact that am an Itsekiri, as I would be representing not just the Itsekiri nation but the Ijaw and Isoko nation. Having contested election in 25 local government areas, I believe contesting elections in 8 local councils would not be stressful."
He however promised to offer quality legislation that would favour not only his Delta South Senatorial District people but the entire Delta state if given the mandate to be in the Senate in 2019.
Uduaghan believes that finding lasting peace in the Niger Delta requires enacting some laws to protect the environment, oil facilities and host communities in the region, as well as to prosecute offenders, pointing out, "Without these laws, it would be difficult to achieve peace in the region."
"Though not everyone would be happy with these laws, in the long run, everyone in the country would benefit because there would be peace in the Niger Delta leading to an increase in oil production."
Speaking further, the former Peoples Democratic Party Governor said, that PDP has become a family in Delta state that would be difficult to beat in any election, maintaining that those who win outside the PDP political family have build structures for themselves in which they now commands cult-like followers hence the winning.
He said that at a time people win election easily even when they just arrived from abroad without building grassroot political structures, but the situation has change because there is more awareness now about grassroot politicking.
Dr Uduaghan gave an analysis of how a young friend of his came from aboard to contest and also how former governor, James Ibori wanted to take a first shot at House of Representative seat but lost out following his failure to get the needed grassroot mobilization and support to win election in the state.
"There was a time you can come from London and come and win election here but now you cannot. There was a time people come from American to contest and they will win but now you cannot. I was telling one of my young friend who has not been in this country, he said he want to come and contest and I told him, 'Oboy dem go just chop all your money finish o'…(laughter), he said he had moved, he met this and that. You will come and met this and that but..
"My leader, James Ibori can tell you his experience. The first time he came that he want to contest for House of Representative, he came, he had all the money and all that and he thought he would win. But it was myself and someone who told him the true that 'Oboy look this election wen you wan come contest so', then Ibru was the Governor and he was coming under National Republican Convention (NRC), I told him you can't win, he said that they have assured him. Who assured you, I asked. The other people? Because they wanted his money. Of course he didn't win that election and that taught him a lesson.
"That was one of the things that brought us closer because we were the only people who told him he cannot win because of what was on ground.
"I was not a politician then. I was just a practicing doctor. You know the place they criticise most is inside the operating theater and I used to work in the operating theater and we used to criticised a lot in the operating theater.
"I was just a critic. I used to criticise government a lot, so later he said he was going to prepare and come back and he later came back more prepared, better on ground and understanding the issues from the button and not coming from the top. So that was it.
"Now, you have to build from the bottom and if you notice what PDP has done from when I was a Governor till now, it is go and hold your ward, we had that principles in PDP and that was why I said it is going to be very difficult to beat PDP in this state because it is now go and hold your ward. What does that mean?
"That every political leader, and we have develop many go and man your ward. Like me now, I will go and man my ward. Why should somebody come and beat me in my ward. So it is an issue of man your ward because politics is at the grassroot level".
Story by Julius Eras-Olabowu