BREAKING! EFCC Detains Delta Senator, Nwaoboshi Over Alleged Fraudulent Deals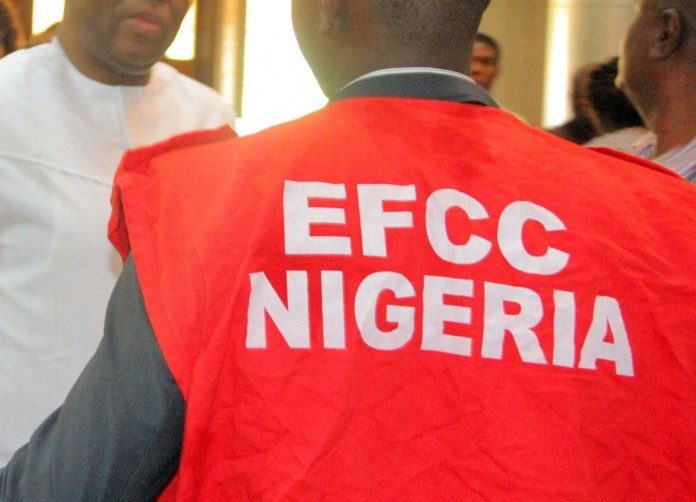 The Senator representing Delta North Senatorial District, Mr Peter Nwaoboshi has been arrested by operatives of the Economic and Financial Crimes Commission (EFCC).
BigPen Online gathered that Nwaoboshi, who was arrested over corruption related offences have been in solitary confinement of the anti-graft agency since last week.
The offences border on the purchase of controversial Delta state Government property, the "Guinea House" in Lagos state which he allegedly purchased in a fraudulent manner with other corruption related issues.
The embattled Senator, who is seeking to re-contest for the Delta North seat have being in a legal battle with the EFCC over his 12-storey building he fraudulently bought with proceeds of alleged fraudulent contract he did for the Delta state Government.
A dependable source at the EFCC, who confirmed the arrest told BigPen Online, "Yes we arrested Senator Nwaoboshi few days ago based on series of corrupt cases hanging on his neck.
"On several occasions he has turned down our invitation extended to him. He is under our custody right now but I won't give you further details because he will soon be charged to court. But I advise you to also get across to our spokesman, Mr Wilson Uwujaren for further clarifications."
When contacted on Monday, EFCC's spokesman, Wilson Uwujaren, neither confirm nor deny the story, but simply said "I will get back to you" which he never did as at the time of filing in this report.
Meanwhile, credible sources revealed that Mr. Nwaoboshi, could not evade the EFCC detectives this time around apparently because Governor Ifeanyi Okowa had blacklisted him.
The source disclosed that Nwaoboshi fell out with Governor Okowa over plans by the governor to displace him as senator representing Delta North in the red chamber come 2019.
BigPen Online was told that Governor Okowa "is the mask behind the current predicament been faced by Mr. Nwaoboshi as a result of some yet to be settled political differences".
Multiple sources from Government House Asaba who confided in one of our correspondents revealed that the senator has a "political scores to settle with the state governor", saying his arrest was facilitated from Asaba.
A commissioner in Okowa's administration who confided in one of our correspondents disclosed, "Though I seriously frowned against the fraudulent manner Senator Peter Nwaoboshi purchased the state asset known as Guinea House located in Lagos. But I can authoritatively confirm to you that the governor is the mask behind the senator's current hurting by the commission. Last year, the governor through his principal secretary, Mr. Hilary Ibegbulem hired some youths to stage a mass protect against Nwaoboshi at the National Assembly but the plan later failed.
Another source from the state who corroborated the development said, "The governor had always before now through his principal secretary used some boys which I don't want to mention now to sponsor petitions against Nwaoboshi and other political opponents in the state which he perceived as enemies.
"Go and write it down, I can confide in you that the governor has already struck a deal with the commission's officials and in the few months to come the officials of the commission in its Benin city office in Edo state will turn Delta state to a sort of mecca for arrest of political opponents." our source disclosed.
One of Nwaoboshi aide, who simply identified himself as Nkem, also confirmed the report, saying, "Yes our oga as we talk is in EFCC custody since last week and I can tell you that it was the handiwork of governor Ifeanyi Okowa.
"There are series of petitions being sponsored by the governor against Nwaoboshi and everything is being handled by Okowa's hitmen in the system. The governor has boasted to spend his last kobo to see that Nwaoboshi does not go back to the senate in 2019. However, you can check page 36, today's Vanguard Newspaper for our full page advert calling for the immediate release of our oga."