ATTACKS ON OMO-AGEGE: SAME PETTY SCRIPT, DIFFERENT DEFAMERS, BY WILSON RUVWOGHOR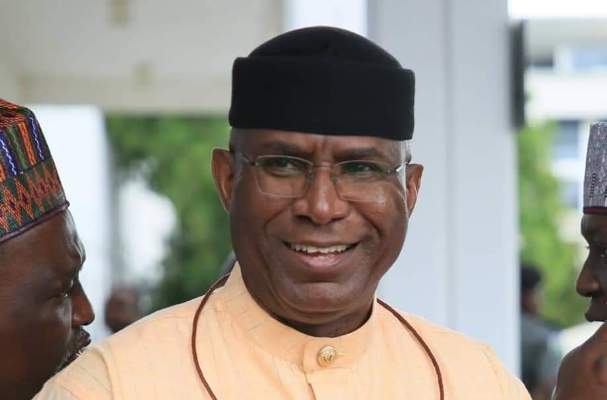 Since consolidating on the jinx broken by the late Sen Pius Ewherido in crashing the Peoples Democratic Party (PDP) hegemony over Delta Central Senatorial seat from opposition party platforms, Deputy Senate President (DSP) Obarisi Ovie Omo-Agege, has become an albatross for Delta PDP.
This morbid PDP fear of Omo-Agege, often peaking when elections are around the corner, couldn't have been more intense now than before, ahead of the coming polls. It is more so because Omo-Agege's deliberate choice to occupy Government House, Asaba in his soaring political career has become unstoppable. Everyone, particularly the PDP, sees it coming, and a very welcomed development at that.
Having conquered, back to back, the best PDP had to offer for elections into Delta Central Senatorial seat in the National Assembly, the state PDP knows Obarisi is confident on replicating these conquests in the governorship race.
The end is imminent for the PDP governorahip dominance in Delta, which under Governor Ifeanyi Okowa, a.k.a Loan Master, has profoundly elevated the arrogance of incompetence, clannishness, greed, ignorance, divisive politics, and insensitivity to the common good.
Added to eyeing vice presidency, It is in driving this impunity to extremes that Okowa is attempting an unconstitutional third term as governor when he imposed the most misfit of aspirants as PDP candidate to the mockery of his supposed godfather, Chief James Ibori and all Delta Central PDP leaders.
Under this atmosphere of predictable defeat, hardly anyone is surprised that the PDP has chosen to dissipate it's last breathe on profuse smear campaigns targeted at Omo-Agege. While the DSP goes about, focused on issues based campaigns, articulating his social contract with all Deltans on moving the state forward from May 29, PDP is borrowing to engage one rental blackmailer after another for puerile campaigns of calumny in bid to distract Omo-Agege.
We can hear the songs from Delta's already overuse professional defamers they hired to slight the DSP. Have Fred Latimore, Olori Magege and some faceless goon calling self Odagwe Chioma not opened their leaking mouths against Obarisi? Have they not failed woefully to sway already made up minds of Deltans to vote most deserving Omo-Agege as next Delta Governor?
Have they not engaged Kogi's failed politician turned clown and Atiku Abubakar's briefcase carrier, Dino Melaye, to throw banters as Sen Omo- Agege? Painfully for them, the more they are ranting, the more discerning PDP leaders are defecting to Delta APC, declaring victory for the DSP.
The reason the PDP smear campaign will not hurt a fly against Omo-Agege is simple. Whether PDP hires the usual suspects or gives the contract to shameless Melaye, every of the traducers is reading same puerile script of inconsequential fallacies and lies already over flogged.
It is a measure of the depth of character and commitment to emancipate Deltans from the painful PDP hegemony that the DSP has refrained from returning the banters thrown by these slanderers. It is certainly not for want of wits to respond to any attention seeking defamer. Neither is Omo-Agege ready to gratify any blackmailer.
From the cast of contenders, Deltans, across all leanings are in agreement that Omo-Agege is the answer to PDP worsening misrule. Not even Dino Melaye can halt the wind of change. After being rendered redundant in Kogi state politics by new entrants and turning into Atiku's briefcase carrier, Melaye cannot come to Delta to rant Sheriff Oborevwori into a surrogate governor for Okowa's third term.
Melaye harps on smearing Omo-Agege with mace theft. How puerile? He was member of the 8th Senate that witnessed the mace saga and active in the failed attempt to rope the DSP's in. If garrulous Melaye and Senate allies couldn't smear the DSP's reputation with mace theft at the peak of Melaye's political power, what harm can he do, now that he has been retired politically?
I couldn't agree less or state it better than it was captured in one of the most apt response to Dino on his campaign drama in Delta. The respondent, simply Yinka said, "Anybody Dino supports is not worth voting for. He wants Delta people to vote for a tout like him. Delta state has wasted over 20 years under PDP rule. Neighboring states without oil are far better in development than them."
Used and dumped defamer, Olori Magege, says Omo-Agege had disrespected former Governor Ibori for dumping PDP for the APC. How contradictory and malicious? Looking at the political atmosphere in Delta, who is disrespecting Ibori. Is it Omo-Agege or Okowa who had continued to humiliate Ibori by undermining his say in PDP decision making?
Was it Omo-Agege who disrespected Ibori by imposing the worst misfit of his administration, a rubber stamp house speaker with doubtful school credentials as PDP guber candidate against the wish of Ibori and other party leaders, particularly in Delta Central where the governorship has rotated?
The gale of high profile defections from PDP to join forces with the DSP have vindicated him that he took the right decision dumping the PDP. For Olori Magege, respecting Ibori means the Omo-Agege remaining in the PDP to be humiliated by Okowa as he, Olori Magege himself and other PDP leaders are now suffering.
To ask Olori Magege, who is more fit to be governor, between him and the gullible Delta Assembly Speaker whose only achievement in office is signing for Okowa, loan after loan which do not find expression in improving the common good, but swelling the private estates of Delta Government's officeholders?
It is proof that Omo-Agege made the right decision quitting PDP and rapidly rose to DSP and the benefits for the common good of Delta Central and the state at large have been overwhelming. But even the likes of Olori Magege and faceless Chioma think they should demean the remarkable Senate scorecard of Omo-Agege by accusing him of winning projects only to his community.
Again, to ask Olori Magege and the PDP clan of character assassinators, how many milestone projects did the PDP bring to Delta when they occupied the Delta Central seat in the Senate? Absolutely zero. The point has been made that there has been no clannish tone to the schools and other federal institutions Omo-Agege attracted to Delta Central.
The achievements were won in futuristic consideration that land allocation would not be a challenge at the point of erecting structures for the projects. Communities were consulted and when it turned out an issue for several communities to make firm commitment to release lands, it became expedient to look homeward for guaranteed land spaces.
Perhaps, the most laughable of the smear campaigns against DSP Omo-Agege is the fallacy that he betrayed Great Ogboru. At what point, again, to ask stomach infrastructure induced detractors, Olori-Magege, Chioma and all.
Conceited Delta elections serial loser, Ogboru has been in the race for governorship since 2003.
Was it Omo-Agege that betrayed Ogboru all these years he has been losing to a point he has fizzled out and become an object of mockery when mentioned as candidate in the Delta political arena?
It is common knowledge that with every passing election, imperious Ogboru changes party platform and allies with whom he would always have issues. Between him and late Ewherido who betrayed who? Between him and Olorogun O'tega Emerhor, who betrayed who?
So full of self, the minute Ogboru joins a party, which only last an election season, he wants to be the party chairman and leader, in short he becomes the all knowing sole administrator. He becomes sole governorship candidate, averse to contesting primaries, but would insist on party members aspiring for other elective offices to face primaries or he dictates who gets what ticket.
To Olori Magege and co maligner, think of any political associate that has been able to endure overbearing Ogboru beyond one election season and ask your yourself again, if you are being fair to the DSP in alleging he betrayed Ogboru.
Deltans are not lost to how Olori Magege slandered former Governor Emmanuel Uduaghan before he shut him up with stomach infrastructure in appointment as Chairman of State Waste Management Board.
Like all blackmailers do, in 2010, ahead of the 2011 elections, Olori Magege said Uduaghan's time (first term) as governor "was a disaster never to be repeated again." The minute Uduaghan made him Chairman, Waste Management Board, Magege's tongue got twisted, his friends became enemies, enemies turned friends.
Pity Olori Magege and any defamer in his shoes. Uduaghan has exposed you as a blackmailer who reverses curses and abuses to praises when stomach infrastructure drops on your laps. Tactfully, Omo-Agege and Delta APC is open to all Deltans of conscience who are defecting from PDP and other platforms to join the emancipation team.
Deliberately so, the privilege to leave the darkness in PDP to join the light in APC does not involve gratifying any defamer. Omo-Agege is not Uduaghan. He will not pay you to shut your running mouth. He had been unfazed by blackmail to seize Delta Central Senate seat from PDP.
He is going to chase the PDP hegemony from Government House Asaba. The days of lording charlatans and touts above competent goal getters in Delta are over. Omo-Agege is Delta next governor. And there is nothing any rental defamer can do about it.
Ruvwoghor, wrote from Ughelli, Delta state