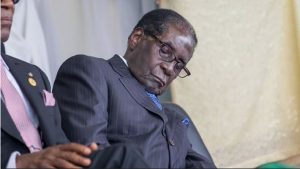 The Long term President Of Zimbabwe and World oldest ruler, Robert Gabriel Mugabe has resigned, thus closing a long overdue chapter in Zimbabwe's political history.
Mugabe who has been president since Zimbabwe's independence tendered his resignation in a letter which was read by the Parliamentary speaker,  Jacob Mudenda at a special joint session of parliament.
In the letter, Mugabe said that his decision to resign was voluntary on his part as it will aid the smooth transfer of power.
This event brings to an end an unprecedented week in which the military seized control and tens of thousands of Zimbabweans took to the streets to demand his resignation.
Mugabe had ruled Zimbabwe almost unopposed since the country won independence from Britain and when the news of his resignation was declared, it was greeted with wild jubilation from all corners of the country with drivers honking their horns and people celebrating in bars and on the roads.
The letter presented to the parliament reads thus;"I Robert Gabriel Mugabe in terms of section 96 of the constitution of Zimbabwe hereby formally tender my resignation… with immediate effect,".
"My decision to resign is voluntary on my part. It arises from my concern for the welfare of the people of Zimbabwe and my desire to ensure a smooth, peaceful and non-violent transfer of power that underpins national security, peace and stability."
Emmerson Mnangagwa, Mugabe former deputy  known as "The Crocodile" is expected to take over as president.
However, under Zimbabwe's constitution, it is second Vice President Phelekezela Mphoko who would ordinarily take over as head of state.
Mugabe is hailed as one of the post-colonial Africa's founding fathers and a staunch supporter of the drive to free neighbouring South Africa  from apartheid in 1994, but many say he has damaged Zimbabwe's economy, democracy and judiciary by staying too long and using violence to suppressed opposition.
The country faces a foreign exchange payments crisis and roaring inflation and will bank on the next president to steer them out of this devastating crisis.
Written by Odigwe Jilams
[Widget_Twitter id= "1"]
---