JUST IN: Four Detained Tantita Security Personnel Exonerated In Oil Theft Case, Freed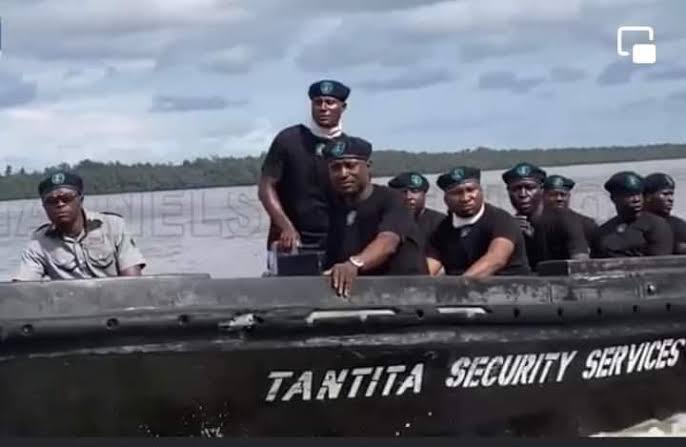 Four employees of Tantita Security Services Nigeria Limited (TSSNL), previously apprehended for purported involvement in oil theft, have been exonerated and released following an intensive investigation by the Nigerian Navy (NN).
BIGPEN NIGERIA (https://bigpenngr.com) reports that the NN's probe into the matter revealed that the TSSNL officials were not guilty, suggesting their initial arrest was an error.
Consequently, the suspects, initially transferred to police custody by the Navy, were discharged.
Dependable source revealed that the decision to release the TSSNL employees came when the Naval authorities investigation revealed the arrest was a mistake and urged the police to free the suspects due to lack of substantial evidence for prosecution.
TSSNL sources confirmed their employees' release to the press on Saturday, stating that this development vindicates the company's earlier position of their innocence.
The company had earlier voiced protests against the arrests, asserting that its arrested employees were actively pursuing oil thieves, not participating in the crime.
The company's management had decried the arrests, calling the actions "unjustifiable, unwarranted, and provocative."
They had demanded the immediate release of their personnel, stating that their employees were pursuing legitimate duties when they were wrongfully arrested by the Naval personnel attached to the Nigerian Navy Ship, NNS Becroft.
The Tantita's management, which protested the fate of its personnel, said the action smacks off blackmail and intimidation and demand their immediate release.
Tantita's management, in a statement said; "Our personnel, who were unlawfully arrested for trumped-up allegations of illegal oil theft along Lagos waterways have been freed and released to re-unite with us. The Navy, upon outcome of thorough investigations directed the Police to release them. As Tantita stated initially, our men were on legitimate duties when they were unlawfully arrested."
"We are happy that common sense eventually prevailed and our men were left off the hook. This gesture by the Navy will foster and engender good working relationship to pursue common goals of eradicating crude oil theft and pipeline vandalism."
"TANTITA and Navy are now partners in progress and henceforth, we will operate in synergy to turn the heat on illegal oil operators in every part of the oil producing areas and creeks of the Niger Delta region," added Tantita source, which craved anonymity.
It would be recalled that the NN had alleged on April 29th that it arrested four TSSNL operatives in New Ikotun Community, Lekki, Lagos, for attempted oil theft.