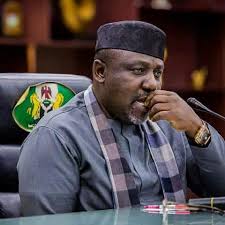 Couple who are warming up to benefit from the new Happiness Ministry which earlier was thought to including "Couple Fulfilment", should perish the thought.
No more couple fulfilment.
Governor Rocha Okorocha had goofed with that and the error is being regretted, following backlashes.
This is coming as the newly appointed commissioner, Mrs Ogechi Ololo has being on twitter battling to explain her roles including the couple fulfilment function, unknowing to her it was an error on the part of the governor's media handlers.
The Commisioner, on her twitter handle @MrsOgechiOlolo which she joined in December, in response to series of criticism on her appointment expressed surprised at the `outbusts of young Nigerians' on Okorocha for such an appointment.
"Let me educate Nigerians on this, for those lacking ignorance. United Arab Emirates has ministers of happiness and they are ahead of us.
"I am truly surprised by the outbursts of young Nigerians on his excellency; Dr Rochas Okorocha. If you don't understand something, keep quiet, read and research. Make good use of your senses.
The Commissioner said the mandate of her office includes ensuring citizens of Imo state remain happy despite the economic meltdown and Biafran fiasco.
Others include ensuring couples in Imo state have a reduced divorce rate and better fulfilled marriages and cater to welfare for the average Imo indigene.
In a time were couple divorce is at an all time high, I will use my good office to ensure couples in Imo will be fulfilled and serve as an example to the world.
Meanwhile, following the huge backlashes over the governor's action, the Imo state government has explained the creation of the ministry which have been a trending subject in the social media.
The governor's Chief Press Secretary,  
Sam Onwuemeodo in a statement obtained by BigPen Online on Tuesday, gave a graphic clarification why the ministry was created to address issues relating to citizens happiness.
The statement read in full: "The real essence of life is to be happy and to fulfill one's purpose in life.
Government officials are elected to address this.
This is the very reason people elect their leaders to guarantee their happiness and purpose fulfillment.
A great leader therefore, is one who provides happiness to the people.
Unfortunately, this vital element of our social lives has not been properly addressed.
Governments at different levels have created several ministries and departments to achieve this, yet people are bitter, angry with hate speeches which lead to crisis, war and even terrorism.
To be happy and achieve purpose mean different things to different people. Generally,
1.    People are happy when theySee their children going to good schools
2.    People are happy when they are in a secured environment and can work freely in their areas of residence.
3.    People are happy where they can relax and admire a beautiful environment.
4.    People are happy when they know they can access good and quality health care facilities.
5.    The Youth are happy, when they can get good jobs, marry, have children and train them.
There is no activity of mankind that is not geared towards providing happiness.
In today's world, especially in our country, millions of people are not fulfilling their purpose in life because of lack of mentorship and guidance. There is complete talent abuse as people no longer engage in life activities suitable to their talents.
Sometimes in university environments, students are meant to study courses they ordinarily would like to do.
This has given rise to why we have people who are favored, do work against their natural will just to survive.
Happiness and Purpose Ministry therefore, is established for the lost time to correct the POLICY FRAMEWORK to guide Ministries and Department son what they must do to guarantee the citizens happiness and contribute better to the society.
Governor Rochas Okorocha in one of his public speeches stated "My Social Contract with the people is to make them happy. Political power to me therefore is a trust which can only be justified when used to make my people happy".
This is why in the past 6 years as Governor of Imo state he introduced several programmes aimed at making the people happy such as; Free Education, Urban Renewal, Back to Land, Health at your Door Step, Youth Millionaire Program, Youth Request Work program, Secure the State Program, Community Government council, etc.
The choice of Mrs Ogechi Ololo; a Masters Degree Holder in Computer Science, USA who has been the Deputy Chief of Staff to the Governor on Domestic Matters and Food Security can be described as a round peg in a round hole. Before her appointment as the supervisory commissioner, She was charged with the responsibility of Liaising with the Federal Government on N-Power Project, CBN Anchor project& BOI, Empowerment Projects.
Governor Rochas Okorocha has also created other Similar Ministries such as the Ministry of Non Formal sector and Market development to address issues of the poor state of Imo Markets where Millions of Imolites converge everyday for their daily existence and to organize the non-formal sector to make them more productive.
The Ministry of education now has 3 Ministries; Primary and secondary, Tertiary & non-Formal Education, ICT, Science and Technology.
Its our belief that these Ministries, when fully functional will provide Happiness to our people.
Finally, there was a typographic error in the first Statement issued on the swearing-in of the new commissioners. The word "Couple" was inadvertently written, instead of the word "Purpose". We regret that", the statement concluded.
[Widget_Twitter id="1″]