We Didn't Attack Okowa's Wife Convoy – Aladja Community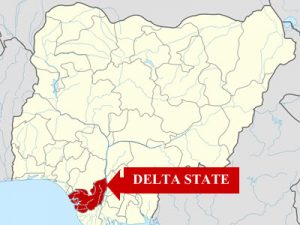 Aladja Community in Udu Local Government Area of Delta has dismissed report that they waylaid a convoy convening medical personnel of the wife of the Delta State Governor, Dame Edith Okowa on her way to Ogbe-Ijoh Community for her 05 Medical Outreach Initiative.
Exonerating the community from the incident, the leaders said that the fear for the safety of civilians coupled with ignorance, made the Aladja youths to resist the attempt by soldiers who escorted the medical personnel from passing through their community.
President of Aladja Community Council, Comrade Elias Dogene, Chief Photo Ogbe, Oghwuvwie-General, Oghwuvwie Traditional Council and Mr. Asifor Samson, Aladja Welfare Movement Chairman signed the statement denying report that its youths attacked the convoy of the governor's wife.
Aladja Community said, "There was no attack on the convoy by Aladja people at Aladja nor any other place.
According to the Community. the allegations in the report is "malicious" stressing that, "it is a prelude and an excuse to attack Aladja Community again."
It was a "misunderstanding" as well as show of bravado by the soldiers escorting the medical team to Ogbe-Ijoh, the leaders said.
"Two days earlier, the leadership of Aladja got intelligence report that the Ijaws wanted to ambush the medical team and make it look like it was Aladja that carried out the attacks.
"This was reported to the JTF and Police Station at Aladja. To confirm their preparedness to carry out such sinister act. There were several gunshots from Ogbe-Ijoh in the noon time around 2pm. The Military and the Police heard them.
"Few hours later, the advance team came and was to pass through. A few youths approached the Soldiers and expressed their fears about the safety of the team and advised the Security strength be increased in the event that the Ijaws carry out their plans.
"But the Army Personnel refused to yield the advice and said they were prepared for anything. Fear for the safety of the civilians in the team coupled with ignorance, made the youths resist the attempt of the Soldiers to go ahead without calling for reinforcement.
"While the argument was going on between the youths and Soldiers, the vehicles carrying the civilians reversed and left the military men. Nobody was beaten nor molested.