Delta State Commuters Decry Neglected Obiaruku/Abraka Road, Demand Immediate Action From Oborevwori Administration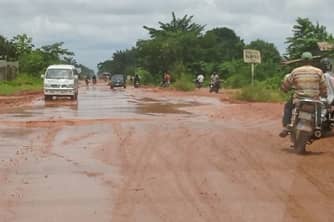 As the Delta State government under Rt. Hon. Sheriff Oborevwori celebrates its first 100 days in office, local commuters have criticized the poor condition of the Obiaruku/Abraka road in Ukwani and Ethiope East Local Government areas.
The neglected road, a vital link to the Delta State University (DELSU) in Abraka, was found to be in dire condition, inhibiting vehicular movement and causing hardships for road users.
Upon inspection, our team found numerous stranded vehicles along the road, with the route effectively closed for regular traffic. This has caused significant distress for the university students and their parents who frequently use this road. They expressed their disappointment at the government's negligence of such a crucial infrastructure.
Dr. Ufuoma Oghenekevwe, a parent of a student, lamented the government's apparent lack of prioritization. "The administration's 100-day celebration feels insensitive when they couldn't repair this road within the same timeframe," he stated.
The argument that the road is a federal responsibility was dismissed by the commuters. They argued that it's the responsibility of the state government to alleviate their sufferings, especially given the government's capacity to carry out the needed repairs. "Most commuters don't know or care about federal or state responsibilities. They just want a functional road," said Dr. Oghenekevwe.
Nkechi Okolie, a third-year student at DELSU, also voiced her concerns. "While we appreciate the infrastructural development in DELSU, the state of the road causes us and our families significant hardship," she said.
The commuters called upon the state governor, Rt Hon. Sheriff Oborevwori, to urgently address the situation and rehabilitate the Obiaruku/Abraka road for the welfare of the Delta State residents.