Alleged Diversion Of Multi-million Pipeline Contract Funds Rocks Omo-Agege's Political Camp As Urhobo, Isoko Youths Call On EFCC To Arrest DSP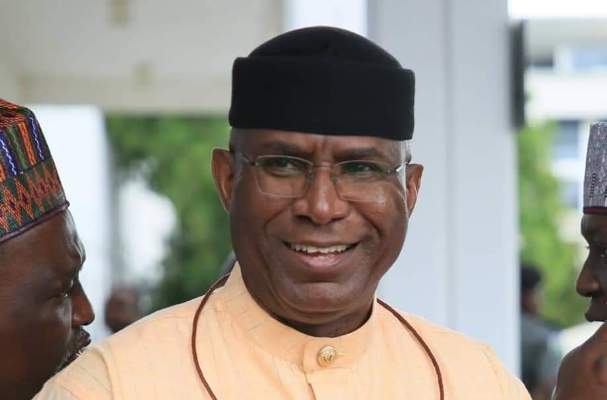 A multi million pipeline surveillance contract scandal is currently rocking the political camp of the Governorship Candidate of the All Progressives Congress (APC) and Deputy President of the Senate, Ovie Omo-Agege as a coalition of former Niger Delta agitators of Urhobo and Isoko extraction, on Thursday, called on the Economic and Financial Crimes Commission (EFCC) to arrest Omo-Agege for allegedly diverting the pipeline job meant for the youths of Urhobo and Isoko ethnic nationalities.
BIGPEN NIGERIA (www.bigpenngr.com) reports that the development stemmed from a protest by the angry youths at Ovwain express junction, Udu local government area of the state who claimed Omo-Agege allegedly diverted the funds meant for Urhobo and Isoko ethnic nations.
In a statement read by the Secretary General of Ovwian community, Okoro Godspower, the youths gave the EFCC a seven-day ultimatum commencing March 9, 2023, to carry out the arrest or be ready for more showdowns on the streets.
They claimed that they had, at different occasions, met with Omo-Agege concerning the slot, but nothing has been done about it.
According to them, their neighbours, the Itsekiri and Ijaw youths, have been receiving N200,000 surveillance fund, the Urhobo and Isoko youths are being given N60,000 with Omo-Agege allegedly withholding N140,000.
They claimed that Omo-Agege had allegedly tried to cajoled them to tender a hand-written resignation letter stating that they have defected to APC, with a promise that their names would be included in the pipeline surveillance contract list.
The statement read: "Based on the exigencies at the moment, it has become paramount and imperative for us the Ex-Agitators of Urhobo and Isoko Ethnic Nationalities to stage a peaceful protest to let the whole world know about the evil schemes of Senator Ovie Omo Agege who has taken over the Pipeline Surveillance contract meant for the Urhobo and Isoko Nations.
"Since, he has refused to listen to the voice of reason to remove his hand from this our God-given opportunity we unequivocally declare as follows:
"Commencing from today, March 9, 2023 we hereby issue a seven days notice to the EFCC to arrest Senator Ovie Omo-Agege and let him explain to the whole world what happened to the pipeline surveillance contracts funds meant or Urhobo and Isoko youths
"Ordinarily, we wouldn't have joined issues with Omo-Agege our Orogun Senator, in staging today's peaceful protest march, knowing fully well that the Orogun Senator, will learn a lesson in a week from today, that power belongs to the people via the ballot
"However, we are sadden by his recent display of lack of empathy, and human consideration, wherein our Orogun Senator acquired a new Private jet aircraft, with funds meant for the payment of persons who are supposed to be guarding NNPCL pipeline that transverses the length and breadth of Urhobo and Isoko land.
"Unlike High Chief Government Owelzie Ekpemupolo aka Tompolo and Chief Emami Ayiri who have since commenced work at the payment of the youths of their ethnic nationalities as far as the Pipeline Surveillance Contract is concerned.
"Lamentably, the same testimony cannot be said of Urhobo and Isoko youths who has been pushed aside, Today, our Orogun Senator is busy cajoling our youths to tender a hand written resignation letter stating that they have defected to APC, with a promise before their names can be included to be part of the Surveillance contract and also support him hook line and sinker so that OMO-AGEGE can be sworn in as Delta State governor.
"I wish to end this address by reminding the EFCC that, after seven days from today, being the 9 of March,2023 no action is taken: against the Orogun Senator, we shall return to the street in a bigger way to agitate for our lawful rights."
But in a swift reaction, Chief Press Secretary to Omo-Agege, Mr. Sunny Areh, said that the protesters were hirelings of Governor Ifeanyi Okowa-led PDP government who are still licking their wounds over the woeful defeat they suffered during the last Saturday presidential election.
Areh said that Omo-Agege is neither a pipeline surveillance contractor nor involved in any pipeline surveillance contract funds diversion as being alleged by the youths who are being used by 'wayward Okowa government'.
In a statement, Areh said; "They are hirelings of Senator Okowa's misguided PDP and government in Delta. Having lost woefully in the presidential election and presently struggling on all fronts in the governorship race in Delta, they mistakenly think they can dent the solid and untainted profile of the Deputy President of the Senate, Senator Ovie Omo-Agege, who is clearly surging ahead to become the next elected Governor of Delta.
"Senator Omo-Agege is not a contractor and obviously has no contract whatsoever with NNPCL on pipelines surveillance. That is an easily verifiable fact. What you are seeing is just the last kicks of a dying horse. Ignore them as the losers that they are and will continue to be. We only pity the juveniles that they are paying peanuts to misbehave.
"Deltans have made up their minds to sweep away Okowa and whatever looks like him, especially his lackeys and stooges. Nothing will change that. But we must seriously warn those who allow the wayward Okowa government to use them, to seek legal guidance on our laws in relation to the subject of defamation".