FG Raids Inner Steel Company, 'A Chinese Alleged Modern-day Slavery Camp' In Abia
Operatives of the Federal Competition and Consumer Protection Commission (FCCPC), has raided a Chinese company in Abia State allegedly involved in 'modern-day slavery practices' against its Nigerian employees, BIGPEN can report.
An investigative series posted by an undercover private journalist with twitter handle, @Truthfully83, accused the firm, Inner Steel Company located at Obehie, Ukwa-West Local Government Area of the state of physical assault on its workers, sexual harassment and bad working conditions, among others.
In a series of tweets which has been buzzing the mini-website, twitter, the journalist who claimed to have secured a job in the company to experience the maltreatment of the workers, stated that the Nigerian employees were being sacked at will and threatened with soldiers and police.
He tweeted, "A worker can be employed today, & be sacked that same day for no reason. Every day & minute in that company, could be your last, as a Nigerian worker. There is no job security, or job guarantee. They will sack workers, chase them away with Army or police, never to return.
"Just like a slave, and a slave master relationship. Every Nigerian in that company is mandated to call their Chinese employers MASTER or MISTRESS and failure to do that attracts a direct sack. Nigerians are violated and molested by their Chinese employers daily.
"Male Nigerian workers are physically assaulted, why their female counterparts are sexually assaulted without any consequence. Chinese MASTERS will use derogatory words on Nigerian employees, and you dare not talk back at them because the consequence is grievous. After the physical assaults you will get, you will still be sacked. Chinese MASTERS will boast of killing you and getting away with it.
"Nigerians are treated worst than second class citizens. The Chinese treat their Nigerian employees as lesser humans in their soil. For over three months and counting, Inner Galaxy Group has been holding workers on hostage because of covid19. They locked the gates, denying workers access to go home. If you dare complain, the @PoliceNG DPO of Obehie police station CSP Isiguzo will be called to arrest you.
"Workers are camped in a prison-like accommodation provided by the company before now. See where Nigerian workers of inner Galaxy group sleep, after 13 hours of tedious job daily. It is truly heartbreaking to see what fellow Nigerians are reduced to because of government insensitivity, and the high rate of unemployment. Chinese now feel they are doing us favour, by treating Nigerians as slaves in our own country, in the area of employment."
He also tweeted about a former employee of the company whose leg was amputated as a result of an injury he suffered in the factory but has not been compensated till date.
"This man was injured right inside the company premises, while on production duty. His foot was amputated, because of the level of damage. Up till this very moment, he has not been compensated, but has long been sacked by the company".
The investigator said that out of over 1000 Nigerian workers with Inner Galaxy group, it was in June that the company gave 18 employees offer letters adding that the offer was not a guarantee that they would not be sacked any time.
BIGPEN gathered, however, that reacting to the development, Abia State Government through the state Commissioner for Information, John Kalu, disclosed that the governor sent a delegation to the factory to investigate the allegations.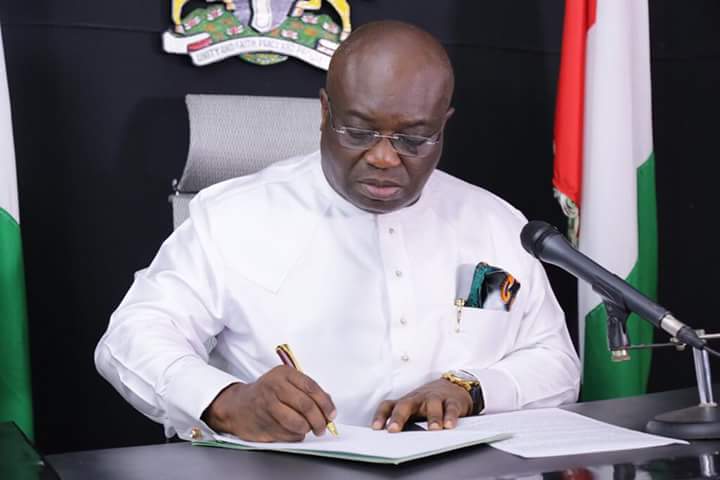 Kalu said in a statement on Thursday that the governor had ordered a full-scale investigation into the operations of the company.
The statement read in part, "Following the review of the report of the fact-finding team sent to Inner Galaxy Steel Company today, Thursday, August 13, 2020, the Abia State Governor, Dr. Okezie Ikpeazu, has directed the setting up of a full investigative committee to look into the operations of the company to ensure compliance with relevant local and international laws.
"The committee, which has two weeks to submit its report to the governor, will be inaugurated at 11am on Friday, August 14, 2020, by the Deputy Governor, Ude Oko Chukwu."
In the same vein, the current chief executive officer of the FCCPC, Mr. Babatunde Irukera, on Friday disclosed that its operatives had gone to the factory on a fact-finding mission to unravel the allegations of unfair employment practice by the Chinese firm.
He said; "On Wednesday August 12, the Federal Competition and Consumer Protection Commission (FCCPC or Commission) became aware of credible reports of unfair treatment of Nigerian employees at Inner Steel Company Limited located at Obehie, Ukwa-West Local Government Area, Abia State.
In an electronic statement made available to this medium, Irukera said, "The information received alleged unscrupulous and potentially illegal treatment and working conditions at Inner Steel's factory. Although it was unclear how the subject conduct falls within the mandate of the FCCPC, regardless, the Commission proceeded in an abundance of caution, considering treatment of citizens was implicated in the report, and the urgency required made it expedient to deploy anyway".
He disclosed that operatives of the Commission from the South-East and South-South zonal offices on Thursday, 13 August, conducted an investigatory stop at the company's location in Obehie, Abia State.
According to him, during the investigation, the Company executives and representatives were cooperative and provided requested information.
Giving the preliminary findings of the team, FCCPC's CEO, Irukera, confirmed that employees are housed on work premises in less than ideal boarding conditions adding that some employees felt restrained on-site and unable to leave, even though going home has been their preference.
He also confirmed that a workplace injury previously occurred and led to an amputation with respect to an employee, maintaining that employees were required to work non-stop shifts of 11 hours with inadequate breaks.
Irukera, in the report also said that there are possible questions about the company's compliance with prevailing standards for the steel/iron products it makes.
"Although the vast majority of the conducts discovered are labour relations and not consumer issues, the Commission secured an express and urgent commitment from the company to immediately, and forthwith:
"Take steps to improve the living conditions of on-site employees including immediately purchasing foams/mattresses for their bunk beds, and cooling fans.
"Modify required working hours from 11 to 8 hours daily effective immediately.
"Immediately discontinue mandatory quarantine on-site for employees who desire to depart the facility and also improve on-site medical access and responsiveness.
"With respect to the work-related accident that led to serious injuries (amputation), considering the circumstances are currently subject of litigation, the company was disinclined to make statements.
"Regarding the quality of the company's products, the Commission has opened an active investigation and is commencing materials testing to determine compliance with prevailing standards.
"The company recognizes it is under monitoring and supervision pending the satisfactory resolution of all outstanding or open issues. The Commission is making a fuller report and transmitting to the more relevant Ministry/Agency for follow up, monitoring and compliance. The enforcement mechanisms including penalties (where applicable) under relevant laws and processes of the appropriate ministry, department or agency, for violations in these circumstances should take their course.
"The Commission commends the courage and commitment of the investigative journalist who followed this through, and welcomes credible intelligence that leads to robust enforcement of its competition and consumer protection mandate", he added.
Meanwhile, the private journalist who busted the alleged ill-treatment of Nigerians in the Chinese company, on Friday alleged that the company management has threatened to sack the workers over his exposure of the alleged inhuman treatment of Nigerian workers in the Chinese company.
He disclosed that the federal government team as well as representatives from Abia state government were taken round the company by one "Chinese mistress" called Tina, who works with the P.R.O department.
According to him, "They saw the rot on ground, as reported in my tweet. But in Nig, 2+2 can sometimes be 22 instead of 4. We demand transparency from the investigators.
"Few minutes after the group left the facility, the management of Inner Galaxy group, threatened to sack workers. For snitching on them. But I will be watching closely, as events unfold, and will surely keep you guys posted", he tweeted.
More photos below: