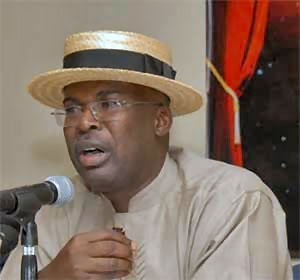 The Governing Council of Nigerian Maritime University, Okerenkoko, Delta state led by former Bayelsa state Governor, Chief Timipre Sylva on Wednesday paid a scheduled visit to the temporary campus of the university in Kurutie, Warri South West Local Government Area.
Sylva and his team also paid homage to the Pere of Gbaramatu Kingdom, HRM Oboro-Gbaruan II, Aketekpe, Agadagba who is marking his 2nd year coronation anniversary in Oporoza, headquarters of Gbaramatu Kingdom.
Spokesman of the Gbaramatu Kingdom, Chief Godspower Gbenekama who was elevated as Fiyewei of Gbaramatu Kingdom after serving meritoriously as Ibe-Benebowei, disclosed this to BigPen Online on Thursday, saying Sylva was conducted round the temporary site of the maritime University bid to takeoff academic activities next Month April.
Speaking at the palace of HRM Oboro Gbaraun II (Aketekpe, Agadagba), the Pere of Gbaramatu Kingdom, in Oporoza town, headquarters of the kingdom, Sylva declared that the Nigerian Maritime University have come to stay, saying that both the federal government and stakeholders are doing everything possible to ensure the institution becomes a world class maritime university.
"Because the university is a corporate citizen of the Gbaramatu Kingdom, therefore we have now become citizens of Gbaramatu Kingdom. We are very aware of the enormous responsibility; we cannot achieve anything in that university without the cooperation of your community.
"We need to bring all the stakeholders together, so that we can develop a world class university, because if our graduates are not internationally accepted, then they cannot function in the maritime industry.
"We need to cooperate to ensure that our university becomes the best of its kind, in Africa."
"I have come here before; I have encountered the rich culture of our people. This university will bring a lot of people from around the world, and of course when they come, they will not only end  at the campus; they will like to see the culture of our people. That is how this university will expose this community.
"The President of the Federal Republic of Nigeria, President Muhammadu Buhari has asked me to tell you that the Nigerian Maritime University, Okerenkoko has come to stay. We have come; we have looked at the facilities available; the university is taking off unfailingly on the 1st of April 2018."
Chief Timipre Sylva, Chairman of the Governing Council and Pro-Vice Chancellor of the Nigerian Maritime University, Okerenkoko was accompanied on the visit by other members of the council including, Prof. David A. Adebayo; Gandi Umar Mulid; Hon (Barr) Ijeoma Igboanusi; Hon. Farouk Mustapha;  Prof. (Mrs) Etebu, Vice Chancellor; N. E. L. Anho, Registrar; Alhaji Bakari Hassan, Bursar; and Dr. Baba Aduku, Librarian.
[Widget_Twitter id="1″]