[Widget_Twitter id="1″]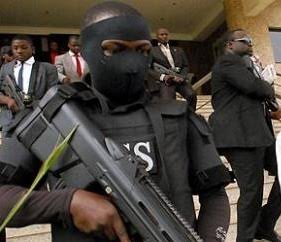 Pandemonium broke out in Asokoro district of Abuja on Tuesday, as operatives of Economic and Financial Crime Commission, EFCC, State Security Service, SSS, and the National Intelligence Agency, NIA, clashed over move to arrest the former heads of the latter security agencies, authoritative online medium, Premium Times is reporting.
Sources said that attempt by a combined team of EFCC officials and police officers to arrest the former heads of the two agencies were vehemently resisted, thus causing a serious standoff and traffic gridlock in the area.
It was gathered that security details of former head of the NIA, Ayo Oke, and former head of the SSS, Ita Ekpeyong, resisted the EFCC officials who tried to arrest the duo from their homes on Mamman Nasir Street in the Asokoro district of Abuja.
This development, has led to a continued stand off between armed security officers from all the four agencies as at the time of this report.
BigPen Online recalls that there have been no love lost relationship between the inter security agencies since the anti-graft agency, EFCC, began its investigation into allegations connected to the former agency heads.
[Widget_Twitter id="1″]