[Widget_Twitter id="1″]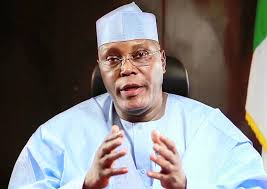 A socio-political group under the auspices of "The United Nigeria Group" has urged former Vice President, Alhaji Abubakar Atiku to heed the calls by many Nigerians to join the race for the 2019 presidential election.
In a statement made available to BigPen Online in Warri, Delta State, the group said that Atiku enjoys overwhelming support of Nigerian than any other would-be aspirants because he has being on the side of the masses.
Signed by its National Organising Secretary and the National Spokesman, Engr. Adamu Salihu and Dr Emenema Bright respectively, they reeled out the reason for the choice of Atiku to include, being advocate for true federalism, respect for democratic institutions, ability to fast track economic growth through major politico structural changes.
They said that Atiku has also showed commitment to the rule of law, ability to appreciate the causes of agitation and experience in dousing political tension among others.
However, the group noted with disdain the call for division by some sections of  the country saying that it would be folly for Nigeria to divide.
It also said that all the country needed was a leadership with the right focus.
"We do believe that the situation in this country is still salvageable if only we get the right leadership. Our greatest folly as a nation right now is the divisions.
"A leader who can bridge these gaps is quintessential to our continuous existence and progress and having seen so many candidates in our ongoing nationwide tour.
"We unanimously agreed that Abubakar is yards beyond his contemporaries in the ability to achieve the feat of uniting and putting us on the part of permanent economic progression.
" So, we asked that Abubakar should throw his hat into the ring to contest the next presidential election,"
"We will appreciate if this call is heeded and promise to work assiduously to see that this ambition is achieved," the group said.
[Widget_Twitter id="1″]